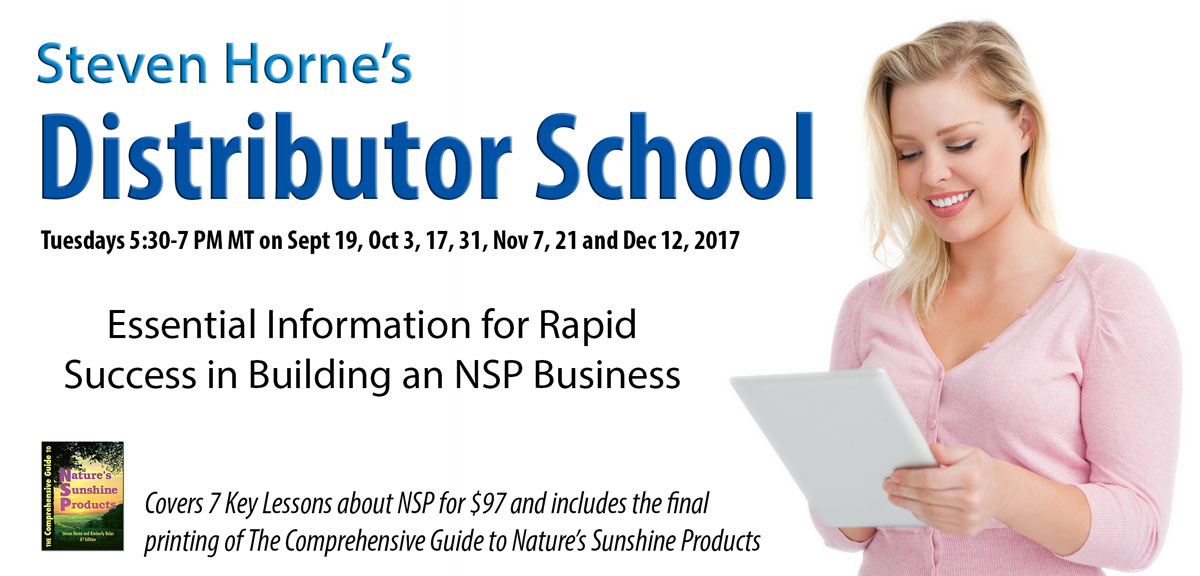 Regular Price:
$97
Order by Friday, January 27 to save an additional 10%
Get on the fast-track to building your own NSP business with Steven Horne's new Distributor School. This program will help you understand core health principles, key NSP products and the essential business and marketing skills you need to get started helping others to a healthier and happier life. The seven lessons in this class are as follows:
The Roots of Health: Thursday, February 16
Coming Clean: Thursday, March 2
The Stress Factor: Thursday, March 16
Shielding Your Body from Disease: Thursday, March 30
Maintaining the Metabolic Engine: Thursday, April 13
Maintaining the Balance of Health: Thursday, April 27
Herbalism Made Easy: Thursday, May 11
If you are getting started with Nature's Sunshine Products, Steven Horne's Distributor School is for you. It is $97 for all seven sessions and includes the Comprehensive Guide to NSP ($35.95 by itself). It starts February 16 and ends May 11. The webinars will be recorded and posted for you to watch and review along with handouts, notes, quizzes and business building exercises and tools.
Start Building a Business Helping People to a Healthier and Happier Life with Steven Horne's Distributor School
Register by Friday, January 27 for an additional 10% off or click here to learn more
---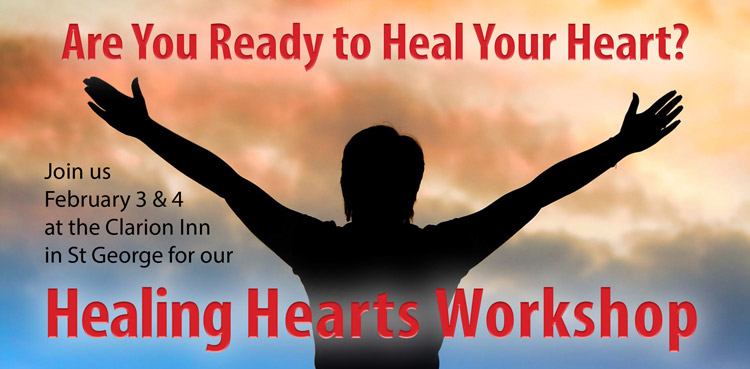 If you're carrying emotional wounds of grief, sadness, fear or anger in your heart you don't have to. Because emotional injuries, like physical injuries, can heal very quickly if the proper steps are taken. Unfortunately most of us have been taught to deal with hurtful experiences in ways that block the healing process. The good news is that the path to inner healing is surprisingly simple. You just have to get out of your head and listen to the wisdom of your heart, and that's what this Healing Hearts Workshop is all about.
Over the course of two days Steven Horne and his assistants will teach you the positive purpose in the emotions that most people consider negative—fear, anger, depression and grief. You will learn effective skills to help you understand these unpleasant feelings and transform them into a sense of inner peace and happiness. If you're carrying emotional wounds from verbal, emotional, physical or sexual abuse, please join us.
You deserve the chance to experience the complete release of the emotional baggage that is holding you back, which is why we want you to join us at this workshop no matter what you can afford.
The workshop is being held February 3 & 4, 2017, 9:30am-5:30pm at the Clarion Inn, 1239 S. Main St, in St. George, UT
The workshop is donation based and no payment is necessary but contributions of any amount are appreciated
Click here to learn more and register online or call 1-800-416-2887
---
This comprehensive, full-color guide provides detailed, easy-to-follow instructions for making and using approximately 250 herbal medicines at home is now available. Steven Horne and Thomas Easley tell you everything you need to know about harvesting, preparing, and administering herbs in many different forms, including fresh, bulk dried herbs, capsules, extracts in water, alcohol, glycerin, vinegar and oil, and even preparations like essential oils and flower essences. The book also covers topical applications of herbs as salves, lotions, poultices, tooth powders, ear drops, and more, and includes an extensive chapter on herbal hydrotherapy.
One of the unique features of this book is that it explains the principles of herbal formulation and provides instructions on the best ways to prepare hundreds of single herbs. More comprehensive than any other guide, thoroughly researched, beautifully illustrated, and presented with ease of use in mind, this book will take its place as the premier reference for those who want to produce all the herbal remedies they need, and to save money in the process.
---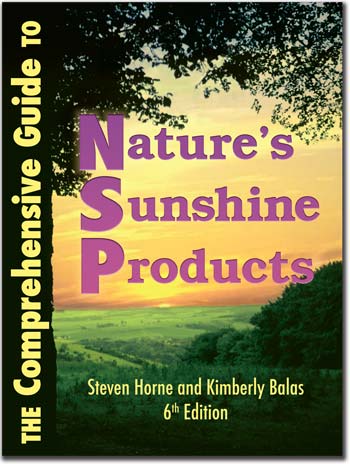 We've made the 6th Edition of the Comprehensive Guide to NSP even better by updating it with the latest products from Nature's Sunshine Products including Berberine IR, Cardiox LDL and all the new essential oil blends.
This book is a must-have for anyone who uses Nature's Sunshine Products. It covers NSP's entire product line, linking them to hundreds of ailments and conditions, natural therapies, body systems and properties.
With 462 pages the Comprehensive Guide to NSP is a big book that is easy to use. It includes a detailed table of contents and section tabs to make it quick to find every product, condition, therapy and property.
Order today and have this incredible reference at your finger tips
Look Inside the Sixth Edition of the Comprehensive Guide to Nature's Sunshine Products
Click on any of the images below to view a sample of the pages from the newest edition of the Comprehensive Guide to Nature's Sunshine Products to see what's inside.

-->
Upcoming Live Classes
---
This online course will teach you the core ideas you need to really understand natural healing. It includes video lessons, handouts, quizzes and counts towards the Family Herbalist Certification program and The Certified Herbal Consultant program. Discover all the amazing things you can learn and register today for just $97.00.
---