Most people believe that herbal medicine is primitive—weaker and less reliable than modern drugs. But nothing could be farther from the truth. As you learn the basic principles and techniques presented inFundamentals of Natural Healing, you'll discover that natural remedies work faster and more effectively than modern medicine in treating common colds, minor injuries, and acute diseases.
Hi, I'm Steven Horne, the author of this course and I want you to know that once I grasped the concepts that I share in the Fundamentals of Natural Healing, I was able to perform minor miracles as the primary healthcare provider in my own family. For instance:
I've completely relieved the pain of smashed fingers in less than 20 minutes with no subsequent bruising or loss of a fingernail.
I've literally "rubbed away" pain from bumps, scrapes and even sunburn with children, family members and friends in just 20-30 minutes.
I'm completely massaged away the pain of sore throats in as little as 20 minutes.
I've seen a sick, feverish child suffering from a cold or flu running around and playing, completely well, in just a few hours.
Ninety-five percent of the time I've been able to relieve tension, sinus and even migraine headaches in 20-30 minutes using nothing more than my hands.
When I hear about parents struggling with children in pain from earaches, fevers and other ailments, my heart goes out to them. I often think of the Biblical verse, "My people perish for lack of knowledge," because I've relieved many of these conditions in a matter of hours without antibiotics, pain killers or over-the-counter drugs. And the amazing thing is that learning how to do these things is remarkably simple.
That's why I created Fundamentals of Natural Healing. In the time you would spend waiting to see a doctor or sitting in the emergency room, you can resolve most common health problems yourself. Just think of how confident you'd feel if you knew how to handle most simple injures and ailments yourself and how much money you could save on medical bills.
This is not only possible, it's actually quite easy. You will be able to perform healing wonders like this once you know the secrets of natural healing revealed in the Fundamental of Natural Healing.
Fundamentals of Natural Healing teaches you in three stages, starting with how to deal with injuries, then moving to acute ailments and finishing with chronic illness and prevention. At each stage, I'll explain what to do, why you are doing it, and why it works. This is valuable and unique because most books tell you what to do but don't really explain why you are doing it.
This course expands upon the basic principles taught in Seven Keys to Effective Natural Healing, adding a lot more techniques and a deeper understanding of how natural healing works.
Class Outline
This class will be taught via webinar and online instruction. It also includes a 175 page course manual. Here are the nine lessons in this course.
Lesson 1. Pain Relief without Medication
No one likes pain, even though it serves a useful function in our lives by warning us when something is wrong. In this lesson, we explore what happens when tissues are injured. We discuss the inflammatory process and the four signs of inflammation (heat, swelling, redness and pain) and how to reverse the inflammation, speed the healing and relieve the pain using a variety of pain relief techniques.
Lesson 2. Herbal First Aid for Minor Injuries
In addition to the pain relieve techniques described in lesson one, there are various herbs that can be used to reduce the inflammation, promote healing and relieve pain in injuries. We discuss astringent and mucilagionous herbs in depth, plus additional remedies that are useful for treating injuries and relieving pain, such as homeopathic arnica.
Lesson 3. Basic Herbal Therapy for Acute Illness
This lesson explains the basic ABC principles of treating acute illness. It discusses the nature of symptoms and how to work with symptoms, instead of against them, to speed healing. It presents the furnace analogy model of illness and the flaws in the germ theory of disease.
Lesson 4. Herbal Hydrotherapy for Acute Illness
This lesson teaches the use of Thomsonian herbal hydrotherapy as a system of treating acute illnesses. This includes therapies like enemas, sweat baths, the cold sheet treatment and drawing baths as remedies for acute ailments. These proceedures will often knock out a cold or flu in a matter of a few hours.
Lesson 5. Specific Therapies for Acute Illness
This session covers specific things you can do to relieve the pain and promote healing with sore throats, earaches, headaches and other specific acute ailments. These techniques have allowed people to relieve these conditions in 30 to 60 minutes in many cases.
Lesson 6. Basic Therapies for Chronic Illness
This lesson explain chronic illness as extension of acute illness. It shows how tissue damage creates acute inflammation, which if not properly treated can turn into subacute inflammation, then chronic disease and ultimately degenerative illness. The nature of the reversal process and the healing crisis are discussed.
Lesson 7. Essentials of Good Nutrition
This lesson discusses how to heal with food. It builds upon the discussion already presented in Seven Keys to Effective Natural Healing to provide more specific information about what constituents a healthy diet. We will cover how to make healthy choices of proteins, fats and carbohydrates and common food allergens.
Lesson 8. Healing Through Detoxification
This lesson discusses using colon cleansing, liver cleansing and other forms of detoxification to promote healing. It also provides suggestions on how to detoxify your life by minimizing your exposure to chemicals, environmental pollutants, food additives and other substances that can damage your health.
Lesson 9. Supplements: Nutritional Health Insurance
This final lesson covers the basic nutritional supplements most people can benefit from taking. These include enzymes, probiotics, vitamins and minerals, fiber, antioxidants and essential fatty acids. These basic supplements, when combined with a healthy diet and detoxification can solve 50-80% of most people's chronic health problems.
About the Fundamentals of Natural Healing
Required For: Family Herbalist Certification (FHC) and Certified Herbal Consultant (CHC) program. Completion of the former Dr. Mom-Dr. Dad course or correspondence version of Fundamentals of Natural Healing counts as having completed this course.
Prerequisites: We recommend taking Seven Keys to Effective Natural Healing before taking this course.
Webinar Dates (2015): Jan 22, 29; Feb 5, 19, 26; Mar 4, 19, 26; Apr 2. Students do not have to participate in live webinars to complete the course. All classes are recorded and posted online.
Course Hours: Nine 1-1/2-hour webinars with about 26.5 hours of reading, online activities and homework for a total of about 40 hours of study. This course comes with a 175-page course manual.
Course Fee: $247 for early registration. $277 for late registration. $50 discount for members of the herbiverse.
---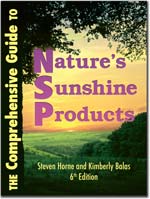 Order the 6th Edition of the Comprehensive Guide to Nature's Sunshine Products
We are now shipping The Comprehensive Guide to Nature's Sunshine Products, 6th Edition.
We're excited about the new 6th edition. We've spent a lot of time and effort improving and refining the book to make this our best edition yet. Here are the ways we've enhanced this edition:
New Binding:These new books are being printed by a professional book printing company using a binding that lays flat when you open it. This new binding is sturdier than the old bindings, so it will stand up better to wear and tear.
New Lower Price: Because we're printing a volume order of this edition, we are able to offer a better quality book at a lower price. The new retail price of the book is $35.95, a savings of $4.00 per book over previous editions.
Detailed Table of Contents: We've added a nine-page Table of Contents (which also serves as an index) to the front of the book. We list every condition and product in this index so you can rapidly find the information you need.
Section Tabs: To make it even easier to look things up, we've added tabs for each of the six sections in the book. This allows you to rapidly navigate to the exact section you want to reference.
New Therapies Section: We've added a new section that covers 26 general therapies you can use for healing. These therapies are linked to the conditions and include instructions for using essential oils (aromatherapy), flower essences, oral chelation, hiatal hernia correction and much more.
New Products: As always we've dropped discontinued products and added NSP's new offerings. New US products found in this edition include:
AnxiousLess, Chlorophyll ES, CurcuminBP, Equolibrium™, Healthy Start, Mind-Max, Nature's Harvest, Relief Formula, Solstic Slim, Stixated™, Sweet FX™ and Ultra Therm™.
Also new to this edition are the Canadian products:
All Natural Pain Relief, Arginine Plus and Flax Hull Lignans.
New and Updated Conditions: Kimberly Balas and Thomas Easley contributed to updating the recommendations for the various conditions listed in this edition, which means you have the combined clinical experience of three natural healers working for you when you look up a health issue you're trying to resolve. We've also added the following new conditions:
Abuse and Trauma, Diabetic Retinopathy, Liver Detoxification, Metabolic Syndrome, Shame and Guilt, Sleep Apnea and Small Intestinal Bacterial Overgrowth (SIBO).
Choose Product by Type: In the past, we lumped products of all types together in alphabetical order for each condition. Even though we highlighted our favorites, the list could still be overwhelming. To make the job of selecting products even easier, we've broken down the list by category. So, you can know see exactly which single herbs, herbal formulas, single nutrients, nutritional formula, nutraceutical products, packs, essential oils, flower essences, topical products and/or appliances may be helpful for any given condition. A description of what each product type is included to help you chose the best types of products for a given situation.
Improved General Directions: We've also included a new topic, Tips for Using Herbs and Supplements, in the introduction. This provides general information about selecting the right products, how long it takes to see results, how to adjust dosages and how to deal with negative (or adverse) reactions.
Order the 6th Edition of the Comprehensive Guide to Nature's Sunshine Products today and get it in 3-5 business days.
---
Closeout Sunshine Sharing Bundles
Sunshine Sharing is a great way to educate people about the many benefits of Nature?s Sunshine Products (NSP). Each issue of this four-page newsletter covers how good nutrition and a healthy lifestyle, along with NSP's quality herbs and supplements, can be used to build, regain or maintain good health. Easy-to-read, entertaining and informative, Sunshine Sharing is a great tool for building your NSP business.
Sold in bundles of 25 copies, many successful NSP Managers and Distributors use Sunshine Sharing as a monthly newsletter to promote their business. Sunshine Sharing can be used as handouts in your office or shop, or distributed as educational pieces around the community.
Quantities of these issues are limited, so they are all on a "first-come, first-serve" basis. So, don't wait, check out the topics available below.

Getting Intimate with Your Health
Available:
4 left
Original Price:
$

10

Sale Price:

$5

Member Price:
$3

Escaping the PMS Monster
Available:
11 left
Original Price:
$

10

Sale Price:

$5

Member Price:
$3

Oh Say, Can You See?
Available:
23 left
Original Price:
$

10

Sale Price:

$5

Member Price:
$3

Oh, My Aching Head!
Available:
11 left
Original Price:
$

10

Sale Price:

$5

Member Price:
$3