Start the New Year Off Right Right With a Class from Tree of Light
This January we have two great classes for you Nature's Pharmacy and Personality Typing and Relationships
Everyone is born with certain inherent genetic tendencies that affect both their physical health and their personality. In traditional systems of medicine, this is called a person's constitution. Our constitution colors the way we experience the world. People tend to believe that everyone thinks and perceives the way they do, which leads to a great deal of unnecessary frustration in relationships and even outright conflict.
Understanding constitution helps you begin to appreciate the differences in other people. It helps you value the talents and abilities others have that you don't and recognize how you can best contribute to the world. It aids emotional healing work because it allows a person to connect more quickly with others and build trust and rapport.
This class consists of three sessions on personality typing, covering basic systems of constitutional typing and the use of iridology to understand a person's inherent personality. It then goes on to provide skills that can help people build better relationships. This is important because we all know that emotional stress contributes to the development of physical illness, but did you ever consider that relationship problems are one of your primary causes of stress?
This is why the shaman or healer in traditional communities was also a counselor and spiritual advisor. So, if we want to help people in a genuinely holistic way, helping them have better relationships is a huge part of that process. I've used the information and skills I'll be sharing in this class numerous times to improve my own relationships, and to help clients reduce their stress by improving their relationships.
In addition to discussing the general principles of good relationships and good communication skills, we'll also devote sessions to specific relationships. We'll talk about male-female relationships, parent-child relationships and relationships in business and community. Some people may consider what I teach in these courses to be "politically incorrect," but I've learned that much of the "politically correct" information about relationships actually produces very unhappy and unhealthy relationships. So, I don't care about the political correctness of what I teach, only the fact that it actually works in practice.
So, if you want to take your healing work to a whole new level, join us for this extremely practical class. You'll never see yourself, or others, the same again.
This class will be taught via webinar and online instruction. Sessions for the class are as follows.
Mon, Jan 11: Introduction to Constitutional Typing
Mon, Jan 18: Emotional Iris Analysis, Part One
Mon, Jan 25: Emotional Iris Analysis, Part Two
Mon, Feb 1: The Three Levels of Human Relationship
Mon, Feb 8: Communication and Leadership
Mon, Feb 15: Male-Female Relationships
Mon, Feb 29: Parent-Child Relationships
Mon, Mar 7: Social-Political Relationships
---
Nature's Pharmacy course will help you understand how herbs work on the energetic and biochemical levels. You'll learn about the "doctrine of signatures, " that is, how a plant's taste, smell, shape, color, texture, form and habitat provide clues to its "medicinal power." You'll also get a layman's introduction to plant chemistry (phytochemistry or pharmacognosy) by learning about some of the major chemical found in plants that provide their healing properties.
You'll learn about twelve basic categories of herbs based on their taste, smell, texture and the major chemical constituents found in them. You'll learn about how plants in each of these categories affect the human body and be provided with detailed profiles on plants in each category so you can learn to apply this information to healing.
The Nature's Pharmacy course will be taught via webinar and online instruction. You will also receive a packet containing herbs that we are going to discuss in this course. This will allow you to feel, smell, taste and experiment with each herb as we talk about it. There are eight lessons in this course as follows.
Thurs, Jan 7: Introduction to Nature's Pharmacy (Plant Chemistry)
Thurs, Jan 14: Pungent and Aromatic Herbs
Thurs, Jan 21: Fragrant, Alkaloidal and Non-Alkaloidal Bitters
Thurs, Jan 28: Acrid, Astringent and Analgesic Herbs
Thurs, Feb 4: Salty and Mineral-Rich Herbs
Thurs, Feb 11: Sour and Cooling Herbs
Thurs, Feb 25: Sweet and Tonic Herbs
Thurs, March 3: Mucilaginous and Oily Herbs
---
Epigenetics and Traditional Constitution Typing
At one time scientists believed that our intellegence and health were largely determined by our genetics. Based on this, science fiction writers foresaw using genetic engineering to produce healthier and more intelligent offspring. We now know that this simply isn't the case. Our environment, diet and lifestyle choices, and even our thoughts and beliefs influence how our genes express themselves through the epigenome. This free webinar explores this new science of epigenetics and how it relates to the traditional idea of constitution.
Click here to download the handouts for this webinar
You can watch the recording for this webinar below.
If you enjoyed this webinar consider enrolling in Personality Typing and Relationship, which includes valuable information about personality typing, including personality iridology. Enroll by Monday, January 11 and save $100 on the price of the class.
---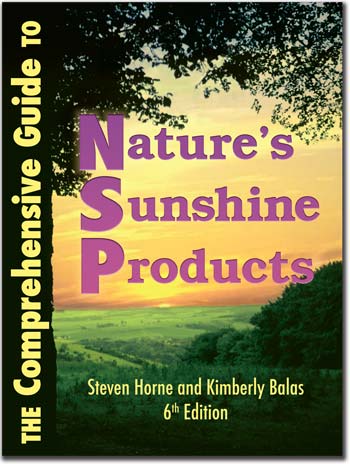 We've made the 6th Edition of the Comprehensive Guide to NSP even better by updating it with the latest products from Nature's Sunshine Products including Berberine IR, Cardiox LDL and all the new essential oil blends.
This book is a must-have for anyone who uses Nature's Sunshine Products. It covers NSP's entire product line, linking them to hundreds of ailments and conditions, natural therapies, body systems and properties.
With 462 pages the Comprehensive Guide to NSP is a big book that is easy to use. It includes a detailed table of contents and section tabs to make it quick to find every product, condition, therapy and property.
Order today and have this incredible reference at your finger tips
Look Inside the Sixth Edition of the Comprehensive Guide to Nature's Sunshine Products
Click on any of the images below to view a sample of the pages from the newest edition of the Comprehensive Guide to Nature's Sunshine Products to see what's inside.
---
Upcoming Live Classes
---
This online course will teach you the core ideas you need to really understand natural healing. It includes video lessons, handouts, quizzes and counts towards the Family Herbalist Certification program and The Certified Herbal Consultant program. Discover all the amazing things you can learn and register today for just $97.00.
---