---
---
An Important Notice from Tree of Light
Steven Horne, left Nature's Sunshine at the end of 1989 because he wanted to provide independent, third-party education for NSP Managers and Distributors. For over 26 years, that's exactly what he's done through Tree of Light.
Unfortunately, government agencies have now decided that third-party education about brand name products isn't acceptable. In other words, even though Tree of Light is strictly an educational company and doesn't sell any herbs or supplements, we still can't mention brand name products in conjunction with the treatment or prevention of any disease.
Since most of our books and materials mention NSP products by name, we need to discontinue selling all of these products.
Below are products we are discontinuing. So, if you want to get some of these materials for your shop, office or personal library, get them now before they disappear forever.
Blood Type, pH &amp Nutrition Charts and Tablet
Sunshine Sharing
---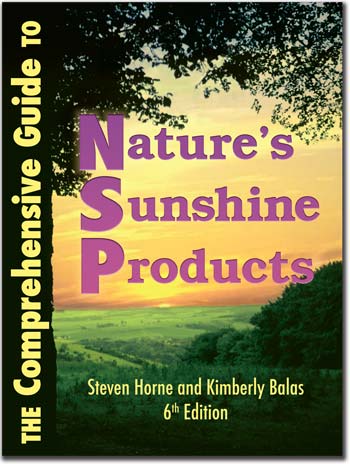 We've made the 6th Edition of the Comprehensive Guide to NSP even better by updating it with the latest products from Nature's Sunshine Products including Berberine IR, Cardiox LDL and all the new essential oil blends.
This book is a must-have for anyone who uses Nature's Sunshine Products. It covers NSP's entire product line, linking them to hundreds of ailments and conditions, natural therapies, body systems and properties.
With 462 pages the Comprehensive Guide to NSP is a big book that is easy to use. It includes a detailed table of contents and section tabs to make it quick to find every product, condition, therapy and property.
Order today and have this incredible reference at your finger tips
Look Inside the Sixth Edition of the Comprehensive Guide to Nature's Sunshine Products
Click on any of the images below to view a sample of the pages from the newest edition of the Comprehensive Guide to Nature's Sunshine Products to see what's inside.
---