Seven Keys to Effective Natural Healing
Oct 20 and 27, Nov 17, 24 and Dec 1, 8, 15
Early Class Registration
4 PM Pacific, 5 PM Mountain, 6 PM Central & 7 Eastern time
Late Class Registration
6:30 PM Pacific, 7:30 PM Mountain, 8:30 PM Central & 9:30 Eastern time
I'm Steven Horne and I'm a professional clinical herbalist—a Registered Herbalist (RH) with the American Herbalists Guild. I'm also a past president of the Guild. I'm also the instructor for this course and I'd like to share a little of my personal story with you, so you'll understand why I created it.
When I was young, I was plagued by chronic sinus problems. I was always getting sick. And, I was always being taken to the doctor. I took antibiotics and antihistamines and even had surgery, but I kept getting worse and worse.
So, I did what a lot of people do in my situation. I started investigating alternative medicine. When I first started using natural remedies the results I got were not very dependable. Sometimes the alternative therapies I tried worked great—other times they hardly seemed to work at all.
But then I discovered some important secrets, key principles that enabled me to get consistent, effective results with herbs and other natural remedies.
That was 34 years ago.
Now, at age 60, I don't take any prescription or over-the-counter drugs. In fact, I've only needed to turn to modern medicine four times since I made these discoveries! I've also been able to take care of nearly all of my family's health problems without the help of medical doctors. And, I've taught these principles to hundreds of other people who have been able to apply them and get the same results.
What I discovered has blessed my life so much, that I want to share it with as many people as I can. So, I want to introduce you to some of the things I learned.
There was a simple reason why my first experiences with alternative medicine failed to give me consistent results— I was using natural remedies, but I was selecting them based on an allopathic mind-set.
Allopathic means against the symptom and it's the approach modern medicine takes in treating most diseases. In fact, you'll hear it plainly stated in advertising for drugs. The narrator will say that the medication "relieves the symptoms of _________ ." Notice that they don't claim the drug cures the disease; they only claim that it relieves some or all of the symptoms.
And let's not forget the long list of potential side effects that come with that symptomatic relief. They're often worse than the original problem!

Treating symptoms IS NOT the same as healing!
After all, to heal means to make whole. Healing isn't just about relieving symptoms of ill health; it's about restoring you to good health. Healing is being restored to a state where you feel great physically and emotionally, think clearly, have plenty of energy, and feel vibrantly alive.
An allopathic (symptom-relieving) mindset can never restore you to health—even if you use natural remedies. Natural healing differs from allopathic healing because it treats the person, not the disease. The distinction may be subtle, but it's important.
Here's why…
Symptoms can be both signs that something is wrong and needs to be fixed, and methods the body uses to cope with what's wrong.
To understand this, let's use the example of a plant that isn't getting enough water. The dry, withered leaves are a symptom of that lack of water—they are not the problem, merely the sign that a problem exists. But, they are also a way for the plant to conserve the water it still has, which means they are also a coping mechanism the plant uses to try to survive.
You can't treat the withered leaves because they are an effect (symptom). You have to treat the plant by giving it the water it needs. This removes the cause of the problem!

In short, symptoms are only the effects of disease. They are not the cause!
As the pioneer herbalist Samuel Thompson said: "Remove the cause and the effect will cease." Unfortunately, the allopathic approach is frequently focused on treating the effect, not finding the cause and removing it. Focusing on treating symptoms can not only fail to fix what's causing them—it can actually make the person's health worse by interfering with what the body's trying to do to cope.
This helps us understand why drugs have so many side effects. The symptom may be relieved, but the source of the problem remains unresolved. Thus, new symptoms (effects) arise as the body continues to struggle with the real problem.
Here's some examples of what we're talking about.
Pain is a sign that something in the body has been (or is being) damaged or injured. Pain killers don't fix the damage, they merely interfere with the signals telling you that something is wrong.
High blood pressure medications simply manage high blood pressure. They never cure it. The imbalances in the body causing the blood pressure to elevate are seldom addressed.
Allergy medications ease allergy symptoms but don't stop you from having allergic reactions.
These are just a few examples. We could go on and on. But, the bottom line is that the allopathic approach is entirely focused on relieving the symptoms of disease, but generally ignores what a person needs to do to be healthy.
If you've ever watched the popular movie, The Secret, you understand that what you focus on, you expand. If your focus is on treating disease, you are focused on disease, not on health. To build lasting health, you have to stop focusing on treating disease and start focusing on building health.
This is why allopathic medicine shouldn't be called a health-care system; it should be called a disease-care system. Sometimes disease-care is necessary. It can temporarily stabilize the body when it's injured or seriously out of balance. But, it shouldn't be confused with health care.
Natural healing is a health-care system, not a disease care system. The natural (or naturopathic) approach is to find out what the body needs to be healthy. This usually involves finding the things that would have helped the person stay healthy in the first place. That's why I call it, Treatment by Prevention.
Again, to quote the pioneer herbalist, Samuel Thomson, "That same thing that will prevent disease will cure it."
To share what I've learned about this approach to health and disease, I have prepared seven lessons that teach the key principles of to using this natural approach. These lessons also give you practical advice about how to put these principles into practice.
The Seven Lessons
This mini-course in natural healing will give you the core ideas on which I've built all my other training programs. When you take it, you'll learn some amazing things.
In Lesson One: Stop Treating the Effect and Remove the Cause, I'll teach you all about the model I discovered that got me started in natural healing. It's called the Disease Tree™ and it will put everything else you learn about natural healing into perspective.
In Lesson Two: Don't Kill the Pain, Heal the Damage, I'll share techniques that can take the pain out of injuries in just minutes. And these techniques don't just mask the pain, they actually speed healing.
In Lesson Three: The Cold IS the Cure, I'll explain why the cold symptoms are the cure for the common cold. I'll also show you how working with disease symptoms, instead of against them, can get you well faster—usually in less than 24 hours with acute diseases!
In Lesson Four: Let Food Be Your Medicine, I'll explain why whole foods and herbs are better medicine than chemical drugs. I'll explain how you can use food to both prevent and heal numerous diseases.
In Lesson Five: Come Clean: Detoxify Your Life, I'll explain why toxicity is a major factor in nearly all chronic and degenerative illness and how to detoxify your body and your life.
In Lesson Six: Relax Your Way to Better Health, I'll explain why unresolved mental and emotional stress is a major root cause of disease and I'll give you proven tools that will help you get rid of it.
Finally, in Lesson Seven: Balance Your Body's Energies, I'll explain the concept of biological terrain and the six tissue states. You'll learn how easy it is to select herbs and supplements that will bring your body back into balance and restore your health.
Class Dates and Fees
Normally, I charge $20-$30 per lesson in a course like this. So this course could easily be valued at $140 to $210. But I really want as many people as possible to have this information! So, you can get all this information for just $39. That's less than $6 per lesson!
One visit to a medical doctor will cost you more than $39. And, I guarantee that this information can save you dozens of visits to the doctor. In fact, I'm so confident that you'll find this material practical, useful and effective that I'm offering an unconditional money-back guarantee! Take all seven lessons. If you're not completely satisfied at the end of the seven lessons, notify us within two weeks after the final class and we'll refund your $39, no questions asked!
The class will be taught via webinar and online instruction, so you can take it from your home or office. Sessions will be held on Monday nights at two different times:
The early session is at 7 PM ET, 6 PM CT, 5 PM MT and 4 PM PT.
The late session is at 9:30 PM ET, 8:30 PM CT, 7:30 PM MT and 6:30 PM PT
Dates will be Oct 20 and 27, Nov 17, 24 and Dec 1, 8, 15.
If you can't make a live session, don't worry. All classes are recorded and you'll be able to view or listen to the class at a later time.
Oh, and one more thing! Please share this information with others as I'd like to get this information into the hands of as many people as I can.

Early Class Registration: $39
4 PM Pacific, 5 PM Mountain, 6 PM Central & 7 Eastern time
Late Class Registration: $39
6:30 PM Pacific, 7:30 PM Mountain, 8:30 PM Central & 9:30 Eastern time
---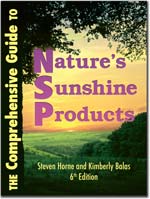 Order the 6th Edition of the Comprehensive Guide to Nature's Sunshine Products
We are now shipping The Comprehensive Guide to Nature's Sunshine Products, 6th Edition.
We're excited about the new 6th edition. We've spent a lot of time and effort improving and refining the book to make this our best edition yet. Here are the ways we've enhanced this edition:
New Binding:These new books are being printed by a professional book printing company using a binding that lays flat when you open it. This new binding is sturdier than the old bindings, so it will stand up better to wear and tear.
New Lower Price: Because we're printing a volume order of this edition, we are able to offer a better quality book at a lower price. The new retail price of the book is $35.95, a savings of $4.00 per book over previous editions.
Detailed Table of Contents: We've added a nine-page Table of Contents (which also serves as an index) to the front of the book. We list every condition and product in this index so you can rapidly find the information you need.
Section Tabs: To make it even easier to look things up, we've added tabs for each of the six sections in the book. This allows you to rapidly navigate to the exact section you want to reference.
New Therapies Section: We've added a new section that covers 26 general therapies you can use for healing. These therapies are linked to the conditions and include instructions for using essential oils (aromatherapy), flower essences, oral chelation, hiatal hernia correction and much more.
New Products: As always we've dropped discontinued products and added NSP's new offerings. New US products found in this edition include:
AnxiousLess, Chlorophyll ES, CurcuminBP, Equolibrium™, Healthy Start, Mind-Max, Nature's Harvest, Relief Formula, Solstic Slim, Stixated™, Sweet FX™ and Ultra Therm™.
Also new to this edition are the Canadian products:
All Natural Pain Relief, Arginine Plus and Flax Hull Lignans.
New and Updated Conditions: Kimberly Balas and Thomas Easley contributed to updating the recommendations for the various conditions listed in this edition, which means you have the combined clinical experience of three natural healers working for you when you look up a health issue you're trying to resolve. We've also added the following new conditions:
Abuse and Trauma, Diabetic Retinopathy, Liver Detoxification, Metabolic Syndrome, Shame and Guilt, Sleep Apnea and Small Intestinal Bacterial Overgrowth (SIBO).
Choose Product by Type: In the past, we lumped products of all types together in alphabetical order for each condition. Even though we highlighted our favorites, the list could still be overwhelming. To make the job of selecting products even easier, we've broken down the list by category. So, you can know see exactly which single herbs, herbal formulas, single nutrients, nutritional formula, nutraceutical products, packs, essential oils, flower essences, topical products and/or appliances may be helpful for any given condition. A description of what each product type is included to help you chose the best types of products for a given situation.
Improved General Directions: We've also included a new topic, Tips for Using Herbs and Supplements, in the introduction. This provides general information about selecting the right products, how long it takes to see results, how to adjust dosages and how to deal with negative (or adverse) reactions.
Order the 6th Edition of the Comprehensive Guide to Nature's Sunshine Products today and get it in 3-5 business days.
---
Closeout Sunshine Sharing Bundles
Sunshine Sharing is a great way to educate people about the many benefits of Nature?s Sunshine Products (NSP). Each issue of this four-page newsletter covers how good nutrition and a healthy lifestyle, along with NSP's quality herbs and supplements, can be used to build, regain or maintain good health. Easy-to-read, entertaining and informative, Sunshine Sharing is a great tool for building your NSP business.
Sold in bundles of 25 copies, many successful NSP Managers and Distributors use Sunshine Sharing as a monthly newsletter to promote their business. Sunshine Sharing can be used as handouts in your office or shop, or distributed as educational pieces around the community.
Quantities of these issues are limited, so they are all on a "first-come, first-serve" basis. So, don't wait, check out the topics available below.

Getting Intimate with Your Health
Available:
4 left
Original Price:
$

10

Sale Price:

$5

Member Price:
$3

Escaping the PMS Monster
Available:
12 left
Original Price:
$

10

Sale Price:

$5

Member Price:
$3

Oh Say, Can You See?
Available:
23 left
Original Price:
$

10

Sale Price:

$5

Member Price:
$3

Oh, My Aching Head!
Available:
11 left
Original Price:
$

10

Sale Price:

$5

Member Price:
$3