Thank You
We just want to take a moment to say thank you to everyone who has ordered in the last couple weeks. If you have a pending order please make sure to checkout and finish your order. It is hard to say goodbye but the following NSP-specific products have been discontinued:
12 Powerful NSP Products, Cholesterol & Your Health, Coming Clean, Flower Essence Assessment Tablet, Flower Power Brochures, Healing with Chinese Herbs, Heal it Yourself, Healing with Flowers, Nature's Choices, Nature's Fresh Booklet, Stop Treating Disease, Start Building Health, The Comprehensive Guide to NSP, The Blood Type, pH & Nutrition Charts, The Simple Secrets of Pain Relief and Tablets and all back issues of Sunshine Sharing.
We'll be working hard to ship out the orders we've received as fast as we can, if you have a question about the status of your order please contact us. We'll still be creating new content and features for The Sunshine Sharing Membership Program/Herbiverse and joining is a great way to support us and enjoy our new and archived member webinars including the Sunshine Sharing Hour and Holistic Perspective in addition to our new Profiles in Success series. This includes writing a new issue of Sunshine Sharing every month which will continue to be available in the future, including our latest issue on healthy blood, Understanding the River of Life.
If you haven't already make sure to sign up for our newsletter, Nature's Field, so you'll know when new articles and videos are posted as well as when we release new tools and classes.
Sign Up For Nature's Field
Print 6th Edition Comprehensive Guide Product Supplement
If you own the first or second printing of 6th Edition of The Comprehensive Guide to NSP you can print out the following supplements to bring your book up to date with the third printing
If you have the Original Printing of the 6th Edition from 2014 you can click here to print out a supplement that contains all the products that have been added.
If you have the Second Printing of the 6th Edition from 2015 you can click here to print out a supplement that contains all the products that have been added.
---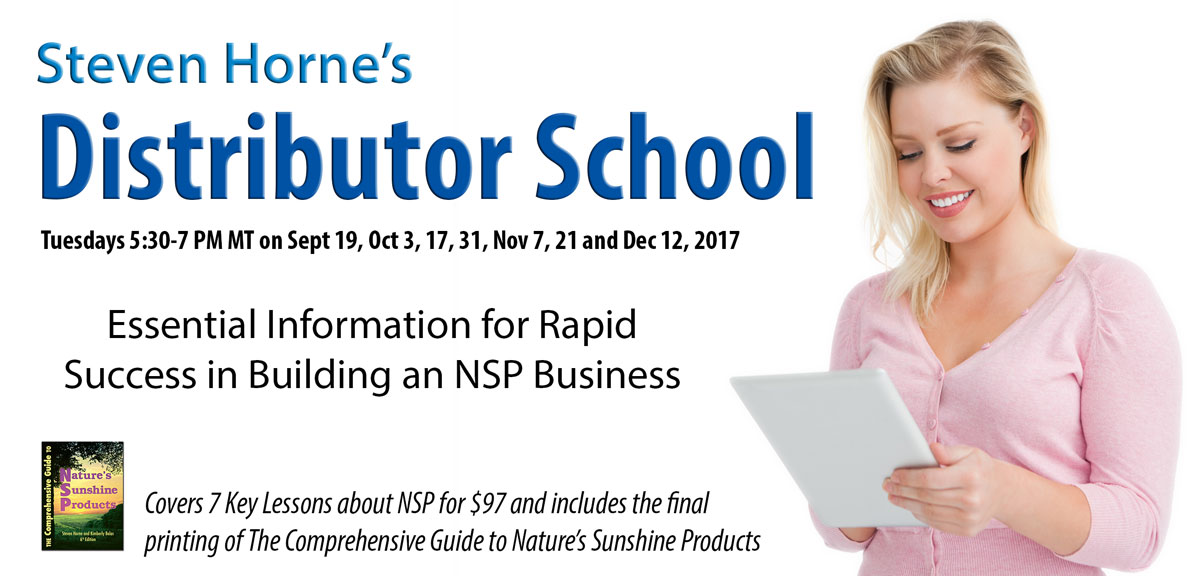 Register for Steven Horne's Distributor School today for $97
Steven's Distributor School will teach you the essential products and health knowledge you need to successfully use and recommend a core set of valuable and unique NSP products. It will also teach you the basic business and marketing skills you need to start sharing this information with others. This is not a "rah-rah" high pressure approach to selling, but rather a low key, educational approach to making people aware of the benefits of the products and building credibility with others.
The class will start on September 19, 2017. It will be taught live at 5:30 to 7 PM Mountain Time on Sept 19, Oct 3, 17, 31, Nov 7, 21 and Dec 12.
The course includes The Comprehensive Guide to Nature's Sunshine, which is the manual for the class. This is the last round of the Distributor School where we will be able to offer the current Comprehensive Guide as the lesson manual. The course fee is $97 plus the shipping cost for book. You can register online using the button below or by calling 800-416-2887.
The 12 sessions for the class are:
Lesson One: The Roots of Health (Sept 19)
Lesson Two: Coming Clean (Oct 3)
Lesson Three: The Stress Factor (Oct 17)
Lesson Four: Shielding Your Body from Disease (Oct 31)
Lesson Five: Maintaining the Metabolic Engine (Nov 7)
Lesson Six: Maintaining the Balance of Health (Nov 21)
Lesson Seven: Herbalism Made Easy (Dec 12)
You can click here to learn more about them
You can also call 1-800-416-2887 to register
---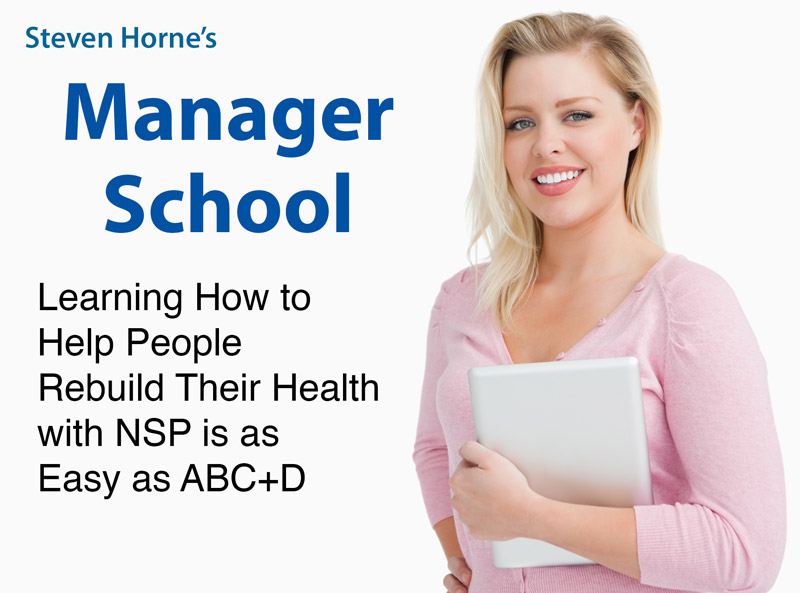 Register for Steven Horne's Manager School today for $247.
In the late 1980s Steven Horne taught a very effective four-day school that helped hundreds of NSP Distributors build successful businesses. He did this while working for NSP as an employee, which meant he couldn't say very much about what the products actually did. What he did teach was a system of assessing people's health based on body systems (structure and function), without making any reference to diseases. In fact, he personally found this system got him consistent results with herbs and supplements, results he was never able to achieve when he relied on an historical uses approach linking herbs and supplements with diseases.
Steven continues to use this system today, with some additional elements, of course, and still finds it highly effectve. So, now, thirty years later, Steven wants to reignite the success of Manager School in his quest to train a whole new generation of herbalists. You don't have to be involved with NSP to benefit from this system either. It's a way of thinking about consulting that's more legally safe and very effective at helping people rebuild and maintain good health.
The class will be held via webinar, but all classes will be recorded so you can watch them when you want.
The 12 sessions for the class are:
Tools of the Trade (August 3)
Structure/Function Not Disease (August 10)
Health and Disease Start in the Stomach (August 31)
The Overlooked and Overworked Liver (September 14)
Your Intestinal Roots of Health (September 21)
Raise the Shields (Septemer 28)
The Breath of Life (October 5)
Balancing the Nerves (October 12)
The Endocrine Symphony (November 2)
The Heart of the Matter (November 9)
The Waters of Life (November 16)
Glandular (Reproductive) (December 7)
You can click here to learn more about them
You can also call 1-800-416-2887 to register