Nature's Field

Subscribe to Nature's Field,
Tree of Light's free newsletter.
Learn Traditional Health Assessment with Steven Horne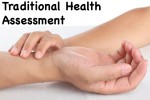 In Traditional Health Assessment you'll learn the process of assessing the various aspects of a person's health, starting with their constitution, the root causes of illness in their life, their biological terrain, and their body systems that are weak. Using the disease tree as our model, we'll look at how different assessment tools are used to gain an understanding of different parts of the health picture.
This is a great course for anyone interested in understanding the underlying imbalances in the body that are the root of disease to recommend herbs, diet and lifestyle changes, and other natural methods to restore balance to the body and aid self-healing.
Register today for just $247
The Comprehensize Guide to Nature's Sunshine Products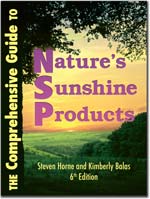 Gain access to detailed information on over 500 health problems and 648 Nature's Sunshine Products in The Comprehensive Guide to Nature's Sunshine Products. This book is an essential tool for maximizing the benefits of Nature's Sunshine Products complete line of high quality herbs and nutritional supplements.
At only $35.95 this book is a simply a "must-have" reference for everyone who uses or sells Nature's Sunshine Products.
CC-A

This successful combination provides important nutrients for both the immune and circulatory systems.  As a cold and cough remedy, CC-A naturally stimulates the body and helps fight infection, calm coughing, improve circulation, and soothe scratchy throats and watery eyes.  It is also helpful in combating nausea, headaches, congestion, chills and fever as well as chronic ear infections.  Several key constituents contribute to the effectiveness of this combination:
Rose hips
Rose hips are most commonly used as a nutritional aid for the immune system.  This herb contains a high vitamin C content which aids in blood purification and improvement of general circulation.  Rose hips are commonly used in herbal formulas for treatment of colds, sore throats, fever, infection, and weakness of the immune system.
Goldenseal root
Goldenseal root has long been known as a popular infection fighting herb.  This herb contains two major alkaloids, berberine and hydrastine, which have  been used to combat a variety of infectious agents.  Further, goldenseal can be used to treat the common cold, ulcerated stomach, enlarged tonsils, scarlet fever, and smallpox.
Chamomile
Chamomile is used to calm the nerves, aid in digestion and prevent intestinal gas.  This nervine produces very soothing effects and is used by some doctors to provide relief to children suffering from fevers, earaches and nightmares. 
Myrrh gum
Myrrh gum collected from bushy shrubs can be used to fight infectious and feverish conditions ranging from head colds to glandular fever.  It is also excellent for upper respiratory problems.  This herb can also be used to treat sore throats and mouth ulcers.
Slippery Elm bark
Slippery elm bark soothes diseases involving inflammation of the mucous membrane of the stomach, bowels, and kidneys.  In addition, it has soothing, cleansing and healing qualities on systems of the body it comes in contact with.  It soothes and helps to heal irritated and inflamed tissues such as hemorrhoids, ulcers, sore throats and burns.
Peppermint leaves
Peppermint leaves are used as both a culinary and medicinal herb.  As a medicinal herb, peppermint leaves are used as an aid to the digestive system and as a remedy for influenza and light fevers.  In addition, peppermint is often used to control flatulence, nausea and diarrhea.
Yarrow
Yarrow is known to be an excellent tool for healing both external and internal injuries.  It helps to stop internal bleeding, diarrhea and gastric irritations.  In addition, this herb is regarded as a digestive system stimulator and as a therapy for colds, flu, measles, smallpox, chickenpox and early stages of fever. 
Sage leaves
Sage leaves are a warming stimulant that strengthen weak digestive and nervous systems.  Sage possess a drying ability which results in decreased perspiration and drying up of persistent sniffles.  Further, sage is useful in quieting the nerves and relieving spasms.
Capsicum fruit
 Capsicum fruit, more commonly known as the red pepper, has hot stimulating properties which make it useful in circulating the blood, eliminating headaches, and clearing mucus.  It is an excellent remedy for stopping colds and flus in the early stages.
Lemon Grass
Lemon grass is well known as a remedy for cramps, headaches, dizziness, colds and fevers.  In addition, this herb may be used to reduce the discharge of mucus in respiratory conditions and provide relief to people suffering from stress or anxiety.
Suggested Use
At the first sign of a cold or flu, take 2 capsules of CC-A with a glass of warm or room temperature water (not cold water).  Continue to take two capsules every two hours throughout the day.  Once you start feeling better, take 2 capsules twice daily for a few days to prevent relapse.
Selected References
A Handbook of Native American Herbs by Alma R. Hutchens.
The Complete Medicinal Herbal by Penelope Ody.
The Little Herb Encyclopedia, 3rd ed. by Jack Richason, N.D.
The Unauthorized Guide to NSP Products from Health Education Library Publications.
The Comprehensive Guide to Nature's Sunshine Products by Tree of Light Publishing.