Nature's Field

Subscribe to Nature's Field,
Tree of Light's free newsletter.
Learn Traditional Health Assessment with Steven Horne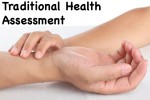 In Traditional Health Assessment you'll learn the process of assessing the various aspects of a person's health, starting with their constitution, the root causes of illness in their life, their biological terrain, and their body systems that are weak. Using the disease tree as our model, we'll look at how different assessment tools are used to gain an understanding of different parts of the health picture.
This is a great course for anyone interested in understanding the underlying imbalances in the body that are the root of disease to recommend herbs, diet and lifestyle changes, and other natural methods to restore balance to the body and aid self-healing.
Register today for just $247
The Comprehensize Guide to Nature's Sunshine Products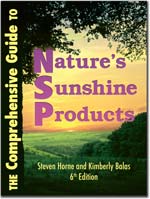 Gain access to detailed information on over 500 health problems and 648 Nature's Sunshine Products in The Comprehensive Guide to Nature's Sunshine Products. This book is an essential tool for maximizing the benefits of Nature's Sunshine Products complete line of high quality herbs and nutritional supplements.
At only $35.95 this book is a simply a "must-have" reference for everyone who uses or sells Nature's Sunshine Products.
Gotu Kola (Centella asiatica)

Gotu Kola from Wikipedia
Gotu kola is a small aquatic annual that belongs to the same botanical family as carrots and parsley. It has a long history as a medicinal herb in traditional Ayurvedic and Chinese medicine.
Eastern people attribute the long life and remarkable memory of animals, such as the elephant, to their feeding on the gotu kola plant. Many people of the Orient claim that consuming at least a couple of leaves of gotu kola in a salad a day can extend the life span by as much as fifty years.

In Thailand, gotu kola is eaten raw as a salad leaf and is thought to help maintain youthfulness. Gotu kola is also commonly used in Sri Lankan vegetarian cuisine in afternoon pick-me-up juices.

In Ayurvedic medicine, gotu kola is known as "Brahmi" (the greatest of the great). It is used in Ayurvedic medicine as a brain food to improve all aspects of mental functioning, including comprehension, memory and recollection. It nourishes and supports the formation of quality blood as well as bone marrow and nerves.
Gotu Kola is believed to retard the aging process and is used in the treatment of insomnia, stress, nervousness and disturbed emotions, memory loss and even serious nervous system disorders such as epilepsy and schizophrenia. Considered "the herb of enlightenment," gotu kola promotes mental calm and clarity and is often used in the practice of yoga and meditation

In Chinese medicine, gotu kola is regarded as the primary herb for promoting longevity. Several famous Chinese centenarians, and Taoist "immortals" have sworn by gotu kola's ability to help them keep their hair well into their 90's. The herb is a part of the longevity myth of the Tai Chi Chuan master Li Ching-Yun. He purportedly lived to be 256, due in part to his regular use of traditional Chinese herbs, including gotu kola.
Gotu kola is a mild adaptogen, which means it helps the body cope better with stress. It reduces anxiety and can help with stress, fatigue and depression.
With antibacterial, antiviral and anti-inflammatory properties, the herb has been used to treat upper respiratory infections, boils and wounds.  It acts as a mild diuretic and is also helpful for circulation.  It can stimulates circulation and can reduce blood pressure. 
Although gotu kola is primarily used in the West as an herb for enhancing memory and intelligence, it is also used in the Orient for skin conditions. It is even used in the treatment of leprosy.

Science recognizes three main "active" constituents in gotu kola. The first is asiaticoside, a type of natural antibiotic. The second constituent is a pair of chemicals, brahmoside and brahminoside (Bacoside A and B), which are glycosides that are diuretic and slightly sedative. The third is madecassoside, a strong anti-inflammatory agent.

Asiaticosides have been shown to stimulate the production of blood cells and to stimulate the immune system. Bacoside A assists in the release of nitric oxide. This allows the aorta and veins to relax, allowing blood to flow more freely. Bacoside B is a protein attributed to nourishing brain cells.

Besides being a popular single herb, gotu kola is an important ingredient in many popular formulas. It is a major ingredient in Ginkgo/Gotu Kola with Bacopa, which is used to enhance memory and brain function. It is also found in ENERG-V and Target Endurance, both energy-enhancing formulas. It is also found in X-A, a formula for enhancing sex drive; Men's Formula and PS II, blends which help prostate problems; SUMA Combination, an adaptogenic blend; and finally in SF, a weight-loss blend.

Selected References
Encyclopedia of Herbal Medicine
by Andrew Chevallier.
The Comprehensive Guide to Nature's Sunshine Products by Tree of Light
Winston & Kuhn's Herbal Therapy and Supplements: A Scientific and Traditional Approach
by Merrily A. Kuhn and David Winston
Herbal Medications by David G. Spoerke, Jr.
Planetary Herbology
by Michael Tierra.
Centella asiatica, a Monograph by Ajay Padmawar